If you walk into one of our Youth Enrichment Program locations, you might see kids painting or teaching each other how to play instruments. You can watch teens playing soccer or challenging each other to a game of basketball. The kids are having fun, but they are also doing so much more. They are setting themselves up for a successful future with better grades, lower absentee rates, and fewer disciplinary actions.
After-school programs serve as a lifeline for the youth of Pinellas County and across America. Learn how after-school programs help kids have brighter futures and increase their chances of becoming successful adults.
After-School Programs Create a Safe Third Place
Elise Cappella, associate professor of applied psychology at NYU Steinhardt, found that after-school programs serve as a significant juncture for kids between school, the neighborhood, and home. After-school programs give kids a fun and safe location where they can blow off energy and learn in a less-stressful environment.
After-school programs help kids who don't have a positive home life and provide learning opportunities for those who don't perform well in a traditional classroom.
After-school programs serve as something of a "third place," similar to what Starbucks is for adults. The corporate leadership at Starbucks has tried to brand itself as a "third place" between school and home where people meet, talk, relax, and form a community. It is not unlike a church or community center.
For many kids, after-school programs are a location where they can form strong relationships with their peers and relax after a long day of learning.
After-School Programs Get Kids Moving
Children across the globe are becoming more sedentary. Health experts recommend kids get at least "60 minutes of moderate to vigorous physical activity," each day. Unfortunately, most kids fall well below those recommendations.
In the UK, only 21% of boys and 16% of girls meet those goals — for reasons similar to those as kids in America. Out of 133 children who were asked why they don't engage in physical activity, the majority of kids brought up video games, Netflix, TV, and other digital distractions that keep them inside and sedentary. When kids come home to empty homes, it's easy to let the hours fly by in front of a screen.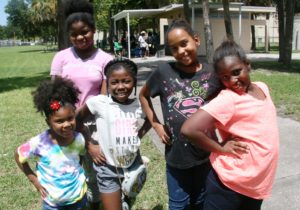 After-school programs help kids break out of this sedentary mold. When kids are around their peers, they are more likely to play games and get up and move around. Our professional youth development staff also lead activities that get kids moving so they enjoy the exercise.
After-school activities benefit more than just a child's physical health. Regular exercise can improve their mental health and well-being while helping them concentrate better for improved academic performance. Something simple like playing basketball with friends is fun but it also helps kids do better in school and face less disciplinary action.
Parents Benefit from Having a Place for Their Children to Go
Not only does having a safe and engaging after-school location benefit kids, it also helps adults who can't get off work. Parents can look for full-time jobs and have greater flexibility than they otherwise would because they know their kids are safe in an after-school program.
According to the Afterschool Alliance, parents lose up to eight days of work per year when their kids have nowhere to go after-school. Creating after-school programs increases the income of families and creates more stability and less stress.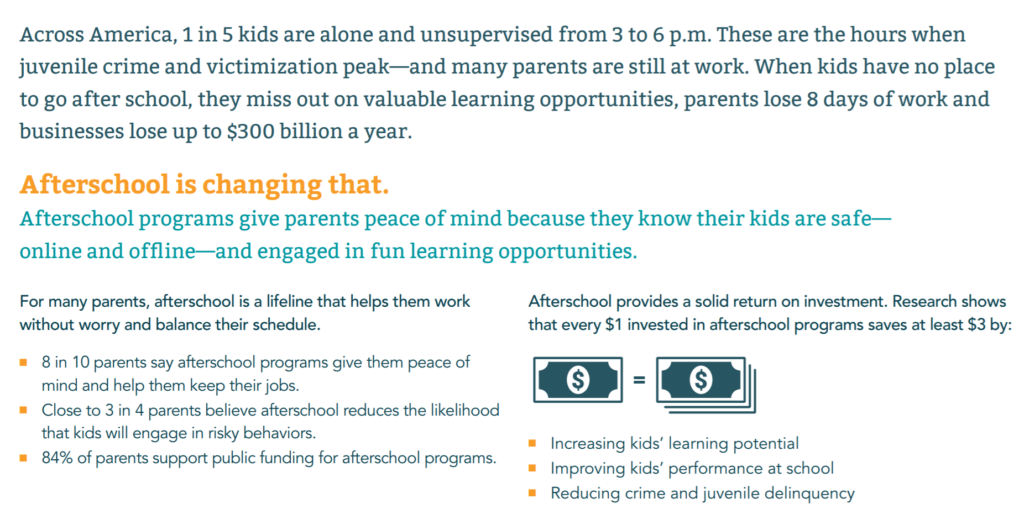 Parents returning to work have a real impact on our economy. According to the Boston Globe, Federal Reserve chair Janet Yellen observed that "increases in women's workforce participation from 1948-1990 expanded the potential growth rate of real GDP by a half percentage point per year."
After-school programs help kids and parents financially, but they also help parents mentally. Parents don't have to worry about their kids when they are at a safe location. They can focus on their work and improve their performance — increasing their chances of advancement. This is good for their mental health and well-being, as well as the family's finances.
Engaged Kids Turn Into Successful Adults 
Our staff works hard to create engaging after-school programs for kids in St. Petersburg and Pinellas Park. Students have access to tutors who guide them through their homework and teach them new ideas, but they also enjoy fun and educational activities with members of the community.
If you have a child who needs an after-school safe space, learn more about our programs and see if there is a location near you. If you're a member of the community who wants to help kids learn and build their skills after-school, check out our volunteer page. Either way, we can't wait to hear from you!