According to the Domestic Violence Dating Project, more than 1.5 million high school students experience physical abuse from a romantic partner. Despite this, three out of four parents haven't talked to their children about abuse. This isn't a fault of the parents. Most people think they would recognize the signs of teen domestic abuse and intervene, or they think their son or daughter is too young to experience abuse at the hands of a boyfriend or girlfriend. However, abuse is a very real issue for many teens, who currently feel trapped in a cycle of it.
To raise awareness of this issue and encourage parents and teens to talk about healthy relationship building, Congress declared February National Teen Dating Violence Awareness Month. We actively supported events this month to raise awareness to the cause in our community and across the country. Here is how our nation talked about teen dating violence through this impactful movement.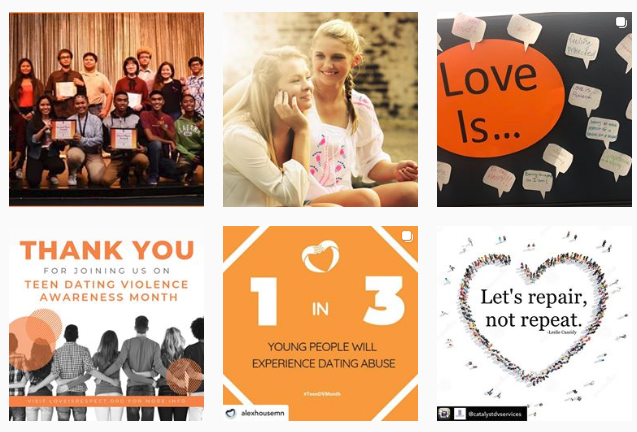 This Year's Theme Was "Huddle Up for Healthy Relationships"
One group of people can't end teen dating violence. We all need to work together and make it a community effort. This is why the theme for 2019 was "Huddle Up for Healthy Relationships." When we come together and include everyone, regardless of their race, sexual identity, or ability, then no one is neglected. Parents can learn how to talk with their teens through this theme, and teens can explore healthy relationships with their significant others.
The organization LoveisRespect.org created a toolkit that community leaders and educators could use to honor this month and bring participants together. This kit contains information about teen domestic violence rates, guides for promoting the month, social media content, banners, and ideas for group leaders. They also have an interactive website and social media presence encouraging people to quiz themselves and take polls to learn more about how to help friends who may be experiencing domestic abuse.
People Across the Country Wore Orange to Raise Awareness
Schools, organizations, and individuals participated in "orange-outs" in their communities where they wore orange throughout the day and encouraged their friends to do the same. Participants posted photos on social media to spread the word and encourage discussion about teen dating violence.
People rocked orange shirts, hats, dresses, nail polish, and any accessory they could find to bring this issue to light.
Check out the crew at Bloom365, a teen advocacy helpline and organization in Arizona that helps teens cultivate healthy relationships wearing their orange shirts  and dancing to Aretha Franklin to let their fans know how important the cause is:
#Orange4Love Day is tomorrow! Wear orange to raise awareness for #TeenDVMonth.
Check out the #bloom365 team rockin' our new #RESPECT T's! Now available for purchase at https://t.co/Ukji7ZUQ7u
Everyone deserves a healthy and safe relationship that is #blooming w/respect! #TDVAM pic.twitter.com/EdDhOoHQJL

— bloom365 (@UprootAbuse) February 12, 2019
The YWCA in Dayton also shared a video of their team wearing orange to raise awareness for Teen Dating Violence Awareness Month. They paired the teen dating violence themes with the book choice in this month's Advocacy Book Club.
Orange – ahem, persimmon – is the signature @YWCAUSA color; today, we wear it to raise awareness of healthy relationships & dating abuse for #RespectWeek2018 #TeenDVMonth. Explore these themes w/us in our new Advocacy Book Club: https://t.co/mD596SN44x #Orange4Love #loveisrespect pic.twitter.com/a08MbN8ghS

— YWCA Dayton (@ywcadayton) February 13, 2018
Rounding out our list is Turning Point, a domestic violence agency in McHenry County, Illinois. Not only did they wear orange, they also toasted the day with orange Fanta.
This is a nationwide movement, and we are proud to stand alongside other groups working to end teen dating violence and celebrate the great work they do!
We Set Aside Time to #ChalkAboutLove
You don't have to spend a lot of time or money to participate in Teen Dating Violence Awareness Month. One of the activities supported by Break the Cycle, an organization that strives to create a culture without abuse, encouraged people to #ChalkAboutLove with their friends and family.  
The students at the Northern Manhattan Improvement Corporation (NMIC) braved the cold so they could #ChalkAboutLove outside. They spent Valentine's Day sharing bilingual messages about domestic violence to encourage people to celebrate the holiday in a loving and healthy way.
For #ValentinesDay NMIC's DVP hosted #ChalkAboutLove to spread awareness & support for the 1/3 people who become victims of #domesticviolence. If you or someone you know needs support call the Domestic Violence Project at 212-822-8311. Services are free, bilingual & confidential. pic.twitter.com/1ITXKxiINp

— NMIC (@NMICnyc) February 15, 2019
The Women's Center in Connecticut took an indoor approach to the #ChalkAboutLove challenge. They used chalkboards around the office and thought about what love meant to them.
It's #ChalkAboutLove day & Valentine's day! As part of #TDVAM, #ChalkAboutLove encourages people to use chalk to send messages about love & healthy relationships. Check out what @WCofGD staff has to say about love. ?#teendatingviolenceawarenessmonth #weareheretotalkaboutit pic.twitter.com/D8wwFK5hVD

— Women's Center (@WCofGD) February 14, 2019
All you need is a few pieces of chalk and a surface to lead an activity and let teens express themselves creatively. We love this idea!
Discover Other Resources to Bring National Teen Dating Violence Awareness Month to Light
If you're looking for even more inspiration, resources, and guidance for observing Teen Dating Violence Awareness Month in your community, check out the National Sexual Violence Resource Center. They have everything from quick statistics that you can reference in a presentation to in-depth guides and tutorials for working with students. They also have resources for parents and for educators trying to reach parents.
When teachers, students, and parents come together to discuss healthy relationships and build foundations for respect, our teens learn to respect each other and themselves.
Thank you to everyone who brought dating violence to the front of our attention through Teen Dating Violence Awareness Month. We are full of pride looking at the tags online. Check back with us early next year to find out how Family Resources is participating in this movement!