We were all hopeful that the St. Pete Pride 2020 celebrations would continue this year despite the COVID-19 pandemic; however, its organizers made the tough call to cancel the parade and other public events that occur throughout the month of June. 
For so many people, Pride is a time to reflect on how far the LGBTQ+ community has come in the past few decades while looking ahead to the continued fight for equality. It is a time to celebrate with friends and family while remembering those who you may have lost. 
We may not have had a parade this year, but the residents of St. Petersburg still have Pride. Learn how our city celebrated the LGBTQ+ community, even if we were a little more socially distant than before.
The Pride Flag Flew Above City Hall and Local Business Came Out
On June 1, 2020, Mayor Rick Kriseman raised the rainbow Pride flag above City Hall in a virtual ceremony that was shared across the city's social media channels and by the local media.
"We won't be having a Pride parade or festival this year, but we will still celebrate and there will still be a lot of pride in our community," Mayor Kriseman said.
Throughout the city, government buildings, city streets, and private businesses donned rainbow flags and took steps to commemorate the month, even if there weren't any major events planned. 
Valhalla Bakery, which opened in February and offers sweet vegan treats, sold a collection of "Gaykes" with rainbow layers, rainbow donuts, and stuffed rainbow cookies. The Bakery also created special pastries in blue, pink, and white to represent the transgender flag. Valhalla announced that $1.50 from each "Gayke" slice sold would be donated to the Zebra Coalition, which provides LGBTQ+ housing and support for homeless youth in Orlando.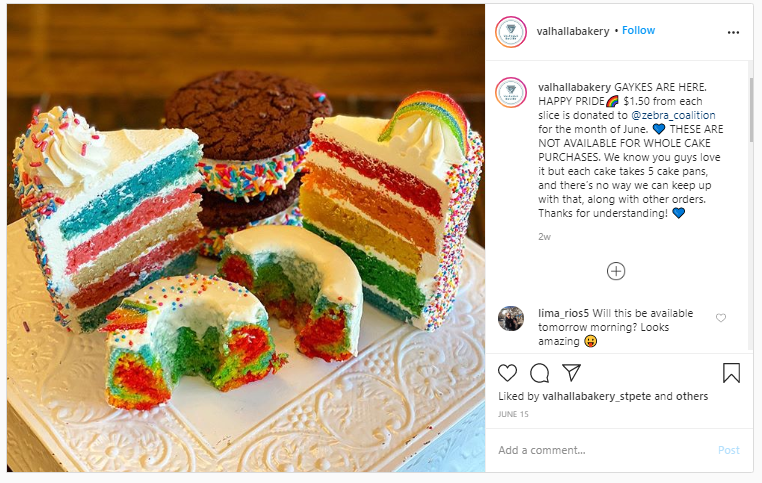 Tombolo Books is another small business that celebrated Pride without the parade. The indie bookstore lit up with Pride through a series of book selections featuring LGBTQ+ characters and discussing key issues. The books in their window range from picture books to young adult and adult and have both fiction and non-fiction options.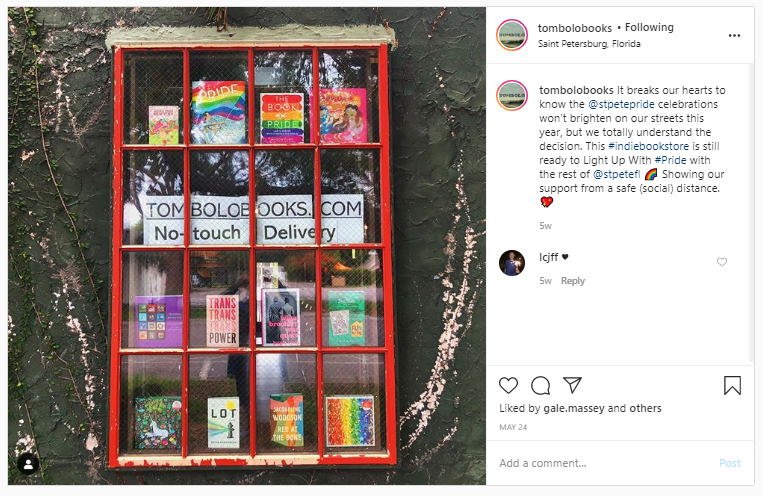 Even a line of stores and restaurants along Central Avenue came together for a day of (socially distanced) celebration. Pride Central was held on June 27th with more than 20 stores, bars, coffee shops, and restaurants encouraging patrons to show their Pride and strut their stuff down Central Avenue. Most of these businesses had to shut down during the pandemic and have noticed a significant drop in business since the reopening. This celebration was a way to celebrate Pride month and support small business owners in a safer way. 
Individuals and small businesses still celebrated Pride on a small scale, even if the celebration was as simple as eating a slice of cake.  
The LGBTQ+ Community Spoke Out Against Racial Injustice
Just days before the Pride flag was raised about City Hall, protestors gathered to demand accountability for police and justice in the death of George Floyd, an unarmed black man who was killed on camera while in police custody in Minneapolis. Throughout the month of June, protestors marched, chanted, sang, danced, and mourned for the state of racism in our country and the daily injustices that the black community faces. This didn't go unnoticed by the Mayor or by the organizers of St. Pete Pride. 
"I want every resident of this city to know that your city leadership – every elected official, our city team, our police officers – we grieve and feel anger," Kriseman said. "Not over just the loss of George Floyd's life, but the racial injustice that is pervasive in our society. We too have had enough." 
The mayor wasn't the only one to speak about Floyd's death and the connection between racial oppression and the LGBTQ+ experience. 
"It's a different Pride month in acknowledging where we are at right now in this country," Nathan Bruemmer, vice president of St. Pete Pride said. "It's a moment to recognize the inter-generational trauma the country has faced, our history, the anguish and pain of systemic racism and our systems of power." 
Pride parades and celebrations have been canceled across the world because of COVID-19; however, many communities used the month to amplify LGBTQ+ voices of color and commit to improving allyship with the black community. 
On June 15, hundreds of people gathered around the historic Stonewall Inn to celebrate the Supreme Court ruling protecting LGBTQ+ employees in the workplace. The Stonewall Inn is considered the "birthplace of the LGBTQ rights movement," and is the first LGBT National Monument in the country. The Stonewall Uprising lasted six days as police tried to clear out gay clubs and bars around Christopher Street in 1969. It serves as a reminder that the fight for equality is rarely easy and it isn't always peaceful. This year, many of the people who gathered brought signs supporting the Black Lives Matter movement and calling for racial justice. 
The Supreme Court ruling is a milestone for the LGBTQ+ community, but many protestors celebrated while remembering Dr. Martin Luther King Jr.'s Letter from Birmingham Jail, "Injustice anywhere is a threat to justice everywhere." Throughout the country, many LGBTQ+ activities worked with local Black Lives Matter organizations to offer support and resources in helping them organize. The fight is far from over. 
Parents who are interested in learning more about Stonewall or talking to their kids about protesting can turn to the picture book Stonewall: A Building. An Uprising. by Brandon author Rob Sanders. He is also the author of Pride: The Story of Harvey Milk and the Rainbow Flag. We also recently created a guide for parents to talk to your kids about racism with tools and resources that you can use. 
We All Made Plans for St. Pete Pride 2021
St. Pete Pride in 2020 was affected by more than just COVID-19. It was changed by the need to fight for justice and make sure people from all walks of life – and especially the black community – receive the same rights and respect as other LGBTQ+ residents. 
Everyone is looking forward to Pride 2021 when the rainbow flag will fly again and parades will hopefully grace our beautiful St. Petersburg streets. However, there are lessons about justice and racial inequality that we need to continue learning throughout this year and beyond. 
Pride doesn't end when the rainbow flag is lowered from City Hall, and the fight for racial justice doesn't end once today's protestors go home.